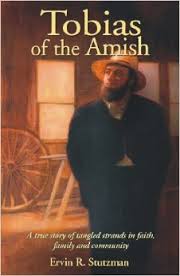 Tobias of the Amish presents an intimate look at the life of Tobias J. Stutzman, an ambitious Amish entrepreneur. From installing electric lights in his woodworking shop to questioning the church's refusal of cars, Tobe continually pushes the boundaries of his Amish faith community. But as Tobe's ideas for inventions come up against delays, his growing debt to fellow church members raises the stakes. Can the Amish church support Tobe's grandiose dreams?
Follow the real-life journey of Tobias J. Stutzman from Amish communities in Oklahoma, through Kansas, and on to Iowa. Experience repeated heartache, triumph, and tragedy along the way as author Ervin R. Stutzman, youngest son of Tobias, paints this fictionalized but ultimately true story of his father's life.
Tobias of the Amish: A True Story of Tangled Strands in Faith, Family, and Community was published by Herald Press in 2001 as is available in paperback and audiobook formats.